2022-2023 co-chairs:
Aditya Chander, Christoph' McFadden
2021-2022 Members:
Clifton Boyd, Aditya Chander (co-chair), Allison Chu (co-chair), Collin Edouard, Lin Georgis, Liam Hynes-Tawa, Tatiana Koike, Christoph' McFadden
Profiles
Clifton Boyd
Clifton Boyd (2016) is a Ph.D. candidate in music theory and Dean's Emerging Scholars Fellow. Originally from West Bloomfield, MI, he holds an M.M. in music theory from the Jacobs School of Music at Indiana University and a B.M. in viola performance and music theory from the University of Michigan. His dissertation, provisionally titled "The Role of Vernacular Music Theory in the Institution of Barbershop Music," investigates the role of music theory in the social culture of American vernacular musical communities, with a focus on racial and gender discrimination. Drawing primarily upon the history of the Barbershop Harmony Society, from its founding in 1938 to its contemporary "Everyone in Harmony" diversity initiative, his research explores how communities leverage musical style in processes of institution building. This research has been supported by the Margery Lowens Dissertation Research Fellowship from the Society for American Music and the Howard Mayer Brown Fellowship from the American Musicological Society. Other research interests include minimalism, form in nineteenth-century chamber music, musical meter, and Italian popular music. He has presented at the annual meetings of the Society for Music Theory, the American Musicological Society, and the Society for American Music.
In addition to his academic pursuits, Clifton is a staunch advocate for diversity in music academia: he is the founder of Project Spectrum, a graduate student-led coalition supported by affiliate members (faculty members, independent scholars, and non-academic music professionals), committed to advancing diversity in music theory, musicology, and ethnomusicology. As chair (2017–19), he oversaw the organization of the 2018 national symposium Diversifying Music Academia: Strengthening the Pipeline. In July 2020, he will deliver a paper as part of Project Spectrum's keynote address at the Music Theory Society for New York State annual meeting. For his work with Project Spectrum, he is twice a recipient of the Sphinx Organization's MPower Artist Grant. He was also a fellow for Yale's Office for Graduate Student Development and Diversity (2018–20), and currently serves on the Society for Music Theory's Committee on Race and Ethnicity. His writing on diversity in academia has been featured in Inside Higher Ed.​ He served as co-chair of the Grant Hagan Society in 2019–20.
In his free time, Clifton enjoys listening to comedy podcasts.
Aditya Chander (co-chair 2022-23)
Aditya Chander is a PhD student in Music Theory. Prior to joining Yale, he obtained a Bachelor of Arts in Music from the University of Cambridge (2017), graduating with a First Class degree with Distinction. His final Analysis Portfolio explored two-dimensional sonata form in Respighi's Quartetto Dorico, and the value of neo-Riemannian theory in explaining transition passages in Chausson's Poème. He also hold a Masters degree from Stanford University in Music, Science, and Technology (2019). At Stanford, he taught introductory computer science, and worked in the Neuromusic Lab at the Center for Computer Research in Music and Acoustics, where his research examined the neural correlates of piano duet improvisation using EEG, and violinists' expressive gesture profiles using motion capture technology. He has presented at the Society for Music Perception and Cognition (2019).
Aditya's primary research interests include the embodiment of musical structure, and the perception of familiar melodic schemata in galant music. When he is not busy gelling subjects' scalps for EEG experiments or taping reflective markers to performers for motion capture experiments, Aditya is an avid violinist. He was a winner of the Cambridge University Symphony Orchestra concerto competition in 2015, and the Stanford Symphony Orchestra Concerto Competition in 2018. He is also a principal violinist in the Yale Symphony Orchestra.
Allison Chu
Allison Chu is a Ph.D. student in Music History at Yale University, with research interests in opera in the twenty-first century, contemporary classical music, and representations of identity on and off the stage. She holds a Bachelor of Music in Clarinet Performance (2019) and a Bachelor of Arts in English (2019) from the University of Michigan. From 2017 to 2019, she worked with the University of Michigan Gershwin Initiative as an Editorial Assistant. Allison was awarded an EXCEL Enterprise Fund grant to research blackface minstrelsy, the representation of Black cultural life, and genre hybridity in George Gershwin's Blue Monday. Allison is one of the founding members and current co-chair of the Grant Hagan Society, an affinity group that supports people of color in the Yale Department of Music. She also currently works as a graduate research assistant for the 2020-22 Mellon Sawyer Seminar at Yale, "The Order of Multitudes," which studies the relationship between long histories of information management in the age of big data. Allison is invested in bridging the gap between performers and scholars, practicing public musicology through engagements such as her position as guest lecturer for the 2020 Lakes Area Music Festival and the 2021 Connecticut SummerFest, and as one of the founding members of the Midnight Oil Collective. Outside of scholarly work, Allison enjoys reading novels, traveling, and playing chamber music.
Collin Edouard
Collin Edouard (He/Him) is a first year ethnomusicology student focusing on music from the Caribbean Islands. Collin is a choir director and music teacher with extensive experience in primary/secondary education. He has invested time in the theoretical and practical study of choral conducting at the University of Cambridge, music and music education at Teachers College Columbia University, and  vocal performance at The City College of New York. Collin travels to countries such as Turkey and Uganda in the hopes to expand access to music education and, in particular, with music less frequently circulated in the Western Canon.
Lin Georgis
Jacqueline Georgis is a doctoral student of ethnomusicology within the Department of Music. Her work explores ideas of cultural hybridity and transnational exchange within the Lusophone-Atlantic. She is particularly interested in researching these themes through the lens of a contemporary Afro-Portuguese-inspired electronic dance music genre from Lisbon, Portugal, asking how this and other EDMs challenge and re-imagine neo-colonial sociocultural and political configurations of the Lusophone world. Before coming to Yale, Jacqueline received her B.M. in cello performance from the School of Music, Ithaca College (2013), and continued cello performance study under the tutelage of Geneviève Teulieres-Sommer at the École Normale de Musique de Paris, Alfred Cortot (2013-2015) in Paris, France.
Liam Hynes-Tawa
Liam Hynes-Tawa (2013) is a PhD student in music theory. Originally from Amherst, Massachusetts, he holds a BA in Music and East Asian Studies from Brown University and is interested in harmonic language, form, and tonal structure across a broad variety of repertories. He is currently working on a dissertation about the changing meanings of the Phrygian mode and cadence in the music of late-Renaissance and early-baroque Europe, though he also works with the traditional and contemporary music of Japan and the ways it has interacted with other tonal systems. When not engaged in this type of work, he may sometimes be found playing cello, composing, or singing.
Tatiana Koike
Tatiana Koike (2017) is a Ph.D. student in music theory. She holds a M.M. in music theory from The University of Texas at Austin, and a B.M. in music performance from University of Wisconsin-Madison. Her Master's thesis is entitled "Enacting Music Through Paratexts: A Shifting Politics of Interpretation," and engages with paratextual mediation of music through a series of case studies in musical scores, CDs, and digital music. Her thesis highlights certain shifts in cultural power that underpin these presentations of musical texts through paratexts, and considers Spotify as exemplary of the changing conditions surrounding the relationship between text and paratext through Internet technology.
Tatiana's research interests include interdisciplinary approaches to theories of musical mediation. Her work involves intersections between music analysis, media studies, critical theory, and performance analysis.
Christoph' McFadden (co-chair 2022-23)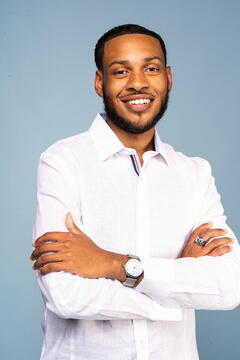 Christoph' McFadden is a second year PhD student in Music and African American Studies at Yale University. He is an honor graduate of Claflin University, where he earned the Bachelor of Arts in Music (Voice). Christoph's scholarly interests lie along the intersection of music and spirituality. He is interested in the nuanced spiritual experiences that characterize African American gospel traditions in both church and industry. Christoph's work is aimed at preserving, discovering and celebrating aspects of the Gospel tradition that have remained opaque in academic settings. In so doing, Christoph' believes his research positions him to support current gospel practitioners while also highlighting the historic roles of faith and music in advancing societal equity. Christoph' is also interested in the ways Black musical soundscapes broadly influence pop culture and social movements in the United States. He is affiliated with the Mellon Mays Fellowship and as of the 2022-23 academic year  serves as co-chair of the Grant Hagan Society of Yale's Department of Music. Additionally, Christoph' is a singer, published writer, Christian minister, and is passionate about mentorship; he leads with his personal motto: "Live life above the influence."
---
Past Members
Holly Chung (co-chair, 2019–20)